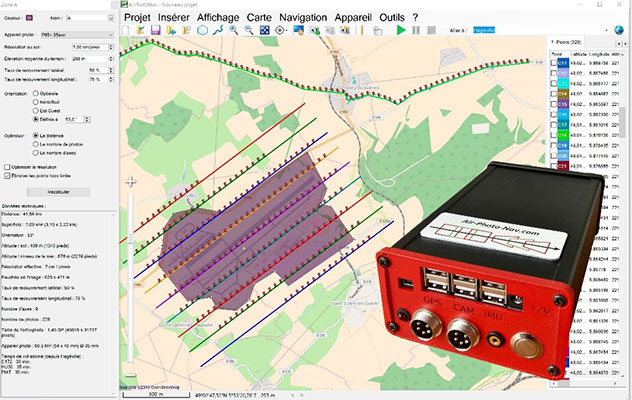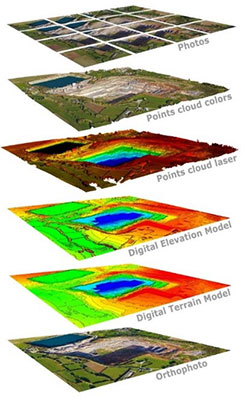 AirPhotoNav is a low cost and high performance complete solution (software & hardware) which allows to cover in vertical or in sideway pictures areas of any sizes and any forms and routes (roads, railways, rivers…) of any distance to be used to generate orthophotos & digital terrain models on the return from flight with specialized software such as PhotoScan.
Designed to be used on single engine aircrafts, microlights, helicopters, it's more light, flexible and economical than the traditional system planned for heavy planes.
The system is customizable to meet customer's needs and is compatible with most of cameras available on the market, including medium format (Phase one, Hasselblad…) or 24x36 format (Canon MkIII, 5DS and Nikon D800, D810…).
After development stage, our system has been heavily tested with 2 pre-production versions and used during 3 years in real conditions by aerial survey operators out of nearly 800 hours of flight and 700 projects (each counting 3 to 11.000 pictures and covering areas of 1 to 800 km², some having ground resolution of 1 pixel per cm that involves high frame rate of 2 pictures per second).
AirPhotoNav system is delivered complete and ready for use, it contains the software and hardware to manage flights, to calculate shot points and to control camera(s):
AirPhotoNav software (currently in version 7.0)


AirPhotoNav box (interfacing cameras with PC)


GPS 10 Hz (optional 20 Hz available)


A secondary screen for the pilot


Cables and accessories (custom-crafted cables for your camera)


Transport case


Camera hardware and photogrammetry software available on demand


Distance learning or at our office


Free 2-year software upgrade


We can do the post-processing work for you if you don't want to invest in money and learning time to use photogrammetry software
Main features of AirPhotoNav software
User interface available in English or French, supports metric or imperial units


A simulation mode allows to train or test your projects and hardware on the ground


Adaptive user interface designed for PC and tablets


Manage all kinds of cameras, sensors and lenses


Manage your aircraft fleet, giving their performance it calculates flight times (travel time & work time) for your project: save time to make quotes


Manage any forms and any sizes of areas & routes to cover





Display and switch background maps (f.e. worldwide OpenStreetMap is included). You can also display aeronautical charts in background


Import/export flight plans, zones, routes and shot points in multiple formats (GPX, KML, KMZ, ShapeFile…)


Includes topography data for optimal calculation of ground resolution and flight altitude (worldwide topography)


Customizable ground resolution (in cm or inches per pixel) and overlap rate (side & forward) for each area to cover


Flight plans can be modified and recalculated at any time, even during a flight, it's quick and easy


The optimal orientation of your flight plan is calculated automatically, you can also define it manually, f.e. to turn head into the wind or to avoid drifting problems


Flight axes don't have a direction imposed, they can be approached by both ways


The operator can quickly change the target point or axis during the flight, f.e. to avoid or redo some shot points because of clouds, or to take manually some more pictures


The AirPhotoNav box can control one or several cameras (camera array or independent camera f.e. IR+RGB) in landscape or portrait mode


For best position accuracy, AirPhotoNav system records and extrapolates the camera position at the exact time the shutter is triggered, and uses GPS with high update rate (10 Hz or 20 Hz optionally). It also considers the gap distance (X, Y, Z) between the camera lens and the GPS antenna


Records flight tracks (GPX format) and flight data (the exact time and position each photo was taken, their file name on camera memory card, flight speed & course at this time…)


Real time tracking (flight time, travelled distance, photos taken/left, overflew zones & routes)


Photo renaming with customizable patterns (f.e. rename each photo with their respective point name or area name)


Records positions in photo metadata for post-processing (f.e. PhotoScan)


Choice between 2 navigation instruments for pilots: collimator or top view




There are 3 trigger modes:



Analog (allows to control several cameras and high frame rates f.e. 2 photos per second)
Digital (camera remote controlled via USB connection, allows to change camera settings f.e. shutter speed, ISO, exposure, and to get camera live view on the PC). Useful when camera is not accessible during the flight.
Manual (for special or complementary purposes)
Specific development for civil or military application: We can review your requests to develop variants specifically for civil or military usage, our system can interact with many kinds of sensors and actuators (f.e. geo-located drop of charges).
AirPhotoNav demo : creating a flight plan & flight simulation